The force of imagination
Issue 204 • January/February 2001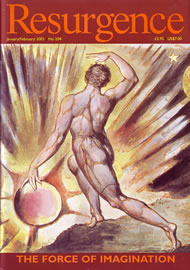 Buy a copy of this issue
Become a member and receive 6 issues a year
Contents
Key
Free for all to view
Free for members to view
Not available
Welcome
Feature Articles
WILLIAM BLAKE Prophet of Imagination • Kathleen Raine
An introduction to the renowned poet, painter, visionary and mystic.
The human economy is a subsystem of the Earth economy.
To "act" is to perform and to take action for social change.
Gaia theory extends natural selection to include the evolution of organisms and their physical environment.
A sense of wholeness demands appropriateness of scale.
FREE LUNCHES, YES: FREE MARKETS, NO • James Robertson
Fairer sharing of the value of common resources is practical politics, not just a utopian dream.
To love nature we must not abandon cities.
Education
EDUCATING ON A HUMAN SCALE • Fiona Carnie
Integrating ecology, community and holistic values.
Schools where art and environment form the basis of early childhood education.
All education is environmental education.
Schumacher College celebrates ten years of environmental education.
Protest
Resistance is as transnational as capital.
The Arts
A PARADE OF BEAUTY • Donna Gold
John Wilde makes you love the wormhole in a leaf.
SCULPTOR OF THE HUMAN SPIRIT • William Varley
Nicolaus Widerberg's sculptures have empirical and intuitive qualities.
Frontline
FARMERS' REVOLT - LAURA COPPO • David Rose
Supreme court stops intensive shrimp farming.
GREEN LAWYER
Getting tough on polluters.
Meditation
Vipassana meditation is a way of being at peace with oneself and with the world.
Regulars
Reviews
THE FRIEND OF THE EARTH • Peter Quince
Review of Let the Mountains Talk
Review of Cultures of Peace
Review of Reason for Hope
Review of The Force of Character
Review of Pip, Pip: a Sideways Look at Time
Review of Sidewalk Critic
Review of Integral Psychology
Review of All the Marvelous Earth
Review of The Spirit of Asia
Review of Captive State
Review of Ayurveda for the Western Mind