Seeds of Life
Issue 225 • July/August 2004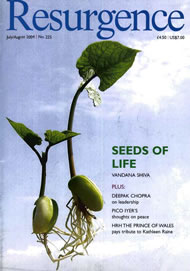 Buy a copy of this issue
Become a member and receive 6 issues a year
Contents
Key
Free for all to view
Free for members to view
Not available
Welcome
THE FOUNDATION OF FOOD • Satish Kumar
Feature Articles
Defence against fast food begins at the table with Slow Food.
From food all things are born, by food they live, into food they return.
Literature rescues us from abstraction and ideology.
Leaders and followers co-create each other.
WHAT IS MY OCCUPATION? • Usha Maira
Breadwinners and bread-makers deserve equal dignity.
Meditating on McDonald's and Monsanto.
The key to managing any commons is to respect it as a gift.
Nature persuades us that life is worth living.
A tribute to the poetic soul of Kathleen Raine.
Simone Sandelson's paintings reveal the tensions between painter and subject.
Reflections on global activists who are proving that another world is possible.
Exploring the connections of the ecovillage movement.
Frontline
How Britain is rediscovering its rural railways.
Vietnam veteran finds a natural road to recovery.
Regulars
Letters to the Editors
Reviews
Review of The Nature of Order
Review of Earth Songs
Review of Against the Flow
Review of Images of Earth and Spirit: A Resurgence Art Anthology
Review of Green and Black's Chocolate Recipes and The Little Food Book
In My Own Words NATURE IS SACRED • Alick Bartholomew
AESTHETIC IMPERATIVE • Terry Irwin
Review of Timeless Beauty
Review of The Moon: Myth and Image
ESSENTIALLY ENGLISH ARTISTS • John Lane
Review of The England of Eric Ravilious and Ben Nicholson: drawings and painted reliefs