Earth, Wealth and Wellbeing
Issue
234

• January/February 2006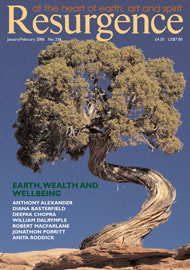 Buy a copy of this issue
Become a member and receive 6 issues a year
Contents
Key
Free for all to view
Free for members to view
Not available
Welcome
Industrial agriculture removes people from the land and disconnects them from the very source of food upon which we all depend.
Feature Articles
The Common Agricultural Policy should be seen as a way forward for a total revisioning of our food production and distribution.
Working on the land is good for your health.
Are capitalism and sustainability mutually exclusive? An edited extract from Capitalism as if the World Matters.
How to develop a civil society where we can meet as strangers and not draw the knife.
Can China's ancient Dao philosophy help its current ecological crisis?
The reality of climate change makes no difference to our unabated oil exploration.
Is there another way of helping the survivors of the Asian tsunami?
Feel more grounded without shoes.
Walking together in Nature can be profoundly healing.
Four-wheel-drive vehicles damage and diminish our sense of place in the landscape.
Let us establish a Ministry for Peace, dedicated to reducing violence in all its forms.
Quantum physics, the greatest intellectual triumph of the 20th century, has made the spiritual worldview completely believable.
The Arts
The story of what happened to the Spinifex People, who live deep in the Australian desert, when nuclear testing came to their land.
At the Ramses Wissa Wassef Art Centre, in Egypt, villagers create woven tapestries of astonishing beauty.
A tribute to the visionary painter Samuel Palmer.
Frontline
The Sustainable Axe Valley Enterprises (SAVE) Trail connects small-scale enterprises in East Devon, UK.
The Center for the Fine Arts, on the Greek island of Paros, offers courses that focus on the whole person. An interview with the director, John Pack.
Regulars
Delighting in the colours, sights and scents of Africa. An extract from Plantworlds.
Poems by Grevel Lindop, Padmakara, Linda France and Rachael Boast from The Heart as Origami.
The story of Mary Harris, once considered "the most dangerous woman in America".
The hurricane that devastated New Orleans and the Mississippi Gulf Coast in 2005 exposed the true state of US politics.
Looking back on the year that woke America. The legacy of Hurricane Katrina.
Bouts of cultural mass hysteria are engineered by an all-subsuming corporate agenda.
Malaria, Coca-Cola, shopping, corruption, chemicals, the tsunami, tourism, waste, energy-efficient light bulbs, water.
The Enemy of Nature by Joel Kovel
Reviews
Review of The Argumentative Indian by Amartya Sen
Review of Dharma and Development (ed.) Markarand Paranjape
Review of The Power of Now by Eckhart Tolle and Stillness Speaks by Eckhart Tolle
Review of In Praise of Slow by Carl Honoré
Review of Landscape into Literature (ed.) Kay Dunbar
Review of Ecological Literacy (eds) Michael K. Stone and Zenobia Barlow and Informal Education by Tony Jeffs and Mark K. Smith
Review of Last Child in the Woods by Richard Louv
Review of The Splendor of Creation by Ellen Bernstein
Review of The Sustainability Revolution by Andres R. Edwards, The Distracted Centipede by Mina Semyon, Passionate Medicine (ed.) Robin Shohet, Crimes against Nature by Robert F. Kennedy Jr,, Writing the World (eds) David Rothenberg and Wandee J. Pryor
Web Exclusives
An ecovillager visits BedZed - a model and demonstration centre for eco-construction and green lifestyles
Review of The Wild Braid by Stanley Kunitz
Review of Outgrowing the Earth by Lester Brown
Review of Designing Your Natural Home by David Pearson
Review of What Happens When We Die by Dr Sam Parnia
Review of Pigs must eat on Sundays by Ben Hartley
Review of The Life and Adventures of William Cobbett by Richard Ingrams