Animate Earth
Issue
236

• May/June 2006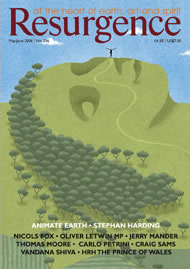 Buy a copy of this issue
Become a member and receive 6 issues a year
Contents
Key
Free for all to view
Free for members to view
Not available
Welcome
Human-scale farming methods are the most sustainable, the most compassionate and the most pleasurable.
Frontline
Building Bridges for Peace is bringing together young people from Palestine and Israel.
Evo Morales is Bolivia's first-ever indigenous president.
The Cycle Station Project is developing places of rest along the UK's National Cycle Network.
Arguments for Fairtrade and organic cotton.
Friends for Peace organise Canada's annual Peace Song Circle and Peace Prayer Day.
Current Affairs
The US government pays huge subsidies to US farmers at great cost to the health of humans and the global economy and to the stability of our climate.
Slow Food: agriculture, the land and the table are totally interconnected.
Undercurrents
Dongtan, the world's first eco-city, is leading the way in urban sustainability.
Sourcing materials locally will enable us to build more efficiently.
Cob building encompasses the spirit of simplicity and elegance: wabi-sabi.
People's Pension Funds: making our savings work for people and planet.
Keynotes
Healthy ecosystems are fundamental to healthy business.
Politicians need to realise that beauty and sustainability are two sides of the same coin.
The Arts
Guy Martin's furniture attemps to make an aesthetic expression of ecological principles.
Sandy Brown's new work in clay is inspired by the eternal dance of life.
An interview with belly-dancer Sam Hasthorpe.
Regulars
The delights of peonies, poppies, honeysuckle and lilac.
A bath is a 'solution' in which the problems of life are soaked and sorted.
A modest contribution to saving the planet from global warming.
London's vegetation is adopting the tactics of guerilla warfare.
The monastery of Abba Yohannis in Ethiopia.
Development' has become a camouflage for capitalist growth.
A global activist is resisting Canada's loss of sovereignty.
Small ways to make a big difference: cars, trans fats, smart electricity meters, saving envelopes, water efficiency.
Paper, holidays, domestic energy, recycling vs virgin wood pulp, biodegradable mobile phone cases, nuclear power stations, golf courses.
Choosing how we spend our money is a tool for transformation.
Every serious writer must be a radical environmentalist.
Poems by a writer-in-residence on an organic farm and the children she inspired.
Reviews
Review of How animals use the art of camouflage. From Vanishing Act by Art Wolfe.
Review of Animate Earth by Stephan Harding
Review of Fencing Paradise by Richard Mabey
Review of Buddha Mind in Contemporary Art (eds) Jacquelynn Bas and Mary Jane Jacob
Review of Architecture in Wood by Will Pryce
Review of The Life and Adventures of William Cobbett
Review of Outgrowing the Earth by Lester Brown
Review of Capitalism As If the World Matters by Jonathon Porritt
Review of Willing Slaves by Madeleine Bunting
Review of Confessions of an Economic Hitman by John Perkins
Review of Not on the Label by Felicity Lawrence
Web Exclusives
Review of The Fall by Steve Taylor
Review of Pathways of Chance by F. David Peat
Review of On the Nature & Significance of the Crafts by Brian Keeble
Review of Animism by Graham Harvey