The Moral Economy
Issue
245

• November/December 2007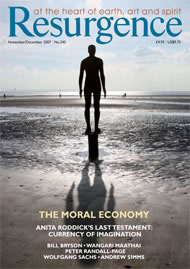 Buy a copy of this issue
Become a member and receive 6 issues a year
Contents
Key
Free for all to view
Free for members to view
Not available
Tribute to Anita Roddick
Issue 245 of Resurgence is dedicated to Anita Roddick, who died on 10th September 2007.
Frontline
Citizen action for clean, safe water in Ghana.
Using community currencies to sideline corporate monopolies.
The Amazon Mycoremediation Project is using fungi to clean up contaminated soil in Ecuador.
Two British primary schools are leading the way with their eco-clubs and eco-councils and have reached the finals of the Ashden Awards.
An accurate way of calculating your daily ecological footprint.
Green Thing is turning sustainable behaviour from a chore into a pleasure.
BIOTECH India has reached the finals of the Ashden Awards for its small-scale plants which turn food waste into biogas.
Keynotes
If we are truly concerned about climate change, then protecting rainforests and other ecosystems around the world is of paramount importance.
Eco-gastronomy can help to restore the traditional knowledge regarding taste, nutrition, biodiversity and agriculture that we have lost in our rush towards development at any cost.
The new President of the Campaign to Protect Rural England pledges to safeguard our natural heritage.
Recognising the core value of nonviolence could strengthen the effectiveness of non-governmental organisations.
The Moral Economy
What is the economy for, and how do we know if it is succeeding?
In order to restore beauty in our economy, our cities and our lives, we need a new currency.
The founder of the Green Belt Movement shows how justice and sustainability are prerequisites for peace.
Community and a deep connection with Nature are key ingredients for health and wellbeing.
Nature is the real source of our wealth.
Germany is addressing climate change by working with Nature.
Undercurrents
Eco-towns and zero-carbon homes will work only within the context of a low-carbon lifestyle.
Oil is the cause of global wars as well as global warming. We need to free ourselves from oil dependency to save the Earth and save ourselves.
The Arts
The editor of Poetry Review introduces new work by three influential eco-poets: Pascale Petit, John Burnside and David Harsent.
Seed, Peter Randall-Page's iconic sculpture at the Eden Project, embodies his interest in pattern, collaborative working and the juxtaposition between inner and outer form.
Grizel Luttman-Johnson and Dorothy Feibleman use marbling in very different ways.
Regulars
It is possible to travel from Europe to Australia without flying - an adventure that values the journey as much as the destination.
Palm-oil production is a major cause of deforestation in the Far East. We need to halt the headlong rush towards biofuels at any cost.
Protecting and nurturing Nature and human relationships: one person's moment of epiphany, and how she converted two farms to organic methods.
Martin Hughes-Jones and Susan Proud have been working with the elements to create a magical garden on their land in Devon.
Reviews
Review of It will not be possible to develop successful economics in the 21st century based on the 19th-century model. There will be no equity without ecology.
Review of Tescopoly: How One Shop Came Out on Top and Why it Matters by Andrew Simms
Review of A New Green History of the World by Clive Ponting
Review of A History of World Agriculture by Marcel Mazoyer and Laurence Roudart
Review of The Upside of Down by Thomas Homer-Dixon
Review of Earthy Realism (ed.) Mary Midgley
Review of Nature's Due by Brian Goodwin
Review of Visionaries of the 20th Century (eds) Satish Kumar and Freddie Whitefield
Review of Slow Food Nation by Carlo Petrini
Review of North Flight by Lynne Wycherley
Web Exclusives
From the Age of Excess to the Era of Moderation.
Anger is a passing cloud on the pure nature of mind.
Review of Froude Today by John Coleman