Life in the Dark
Issue 323 • November/December 2020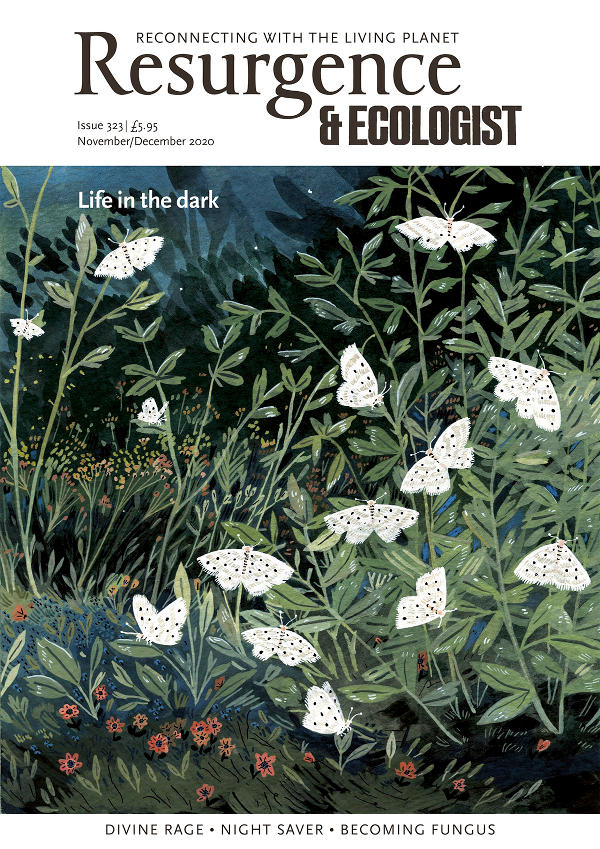 In this issue of Resurgence & Ecologist we celebrate the night sky. Lynn Houghton meets two scientists collecting data in Svalbard on climate change during the polar night, Matt Gaw warns us why we need to protect darkness from light pollution, and astrophysicist Krystal De Napoli tells us how dark sky constellations have informed Aboriginal astronomical traditions. We also hear some tips from grower Claire Ratinon on gardening by the moon, and Tiffany Francis-Baker takes us on a night walk.
Elsewhere, American lawyer Valarie Kaur shares her story of turning rage about social injustice into revolutionary love, and Emmanuela Shinta talks to Zion Lights about how the Dayak people are defending their land in Indonesia. In Arts, Carolyn Mazloomi introduces a group of women who are exposing racism in the United States through the powerful medium of quilting.
Highlights
Standing up for Land in Indonesia: Zion Lights
Divine Race and Revolutionary Love: Valarie Kaur
Gardening by the Moon: Claire Ratinon
Protest, Protect, Build: Satish Kumar
Rock Against Racism: Catherine Early
Buy a copy of this issue
Become a member and receive 6 issues a year

Contents
Key
Free for all to view
Free for members to view
Not available
Welcome
A celebration of the night sky
Frontline
Beavers, good news for biodiversity and nature-based solutions in Zimbabwe
An RSPB mapping tool seeks to uncover the mystery of why swifts migrate
A round up of environmental news stories
Community and Resurgence News • Marianne Brown
Totnes Share Shed, Resurgence book club and Leadership in a time of crisis
Ecologist
Unravelling the backdrop to the presidential elections
An installation marking the voyage of the Mayflower highlights challenging questions
From NGO to Social Justice Network • Catherine Early
An interview with Oxfam GB CEO Danny Sriskandarajah
Standing Up For Land in Indonesia • Zion Lights
Dayak leader Emmanuela Shinta on preserving culture, community and nature
Factory schools threaten the survival of Indigenous cultures
Keynotes
Divine Rage and Revolutionary Love • Valarie Kaur
When it comes to social injustice, outrage is often the only way to be heard
Undercurrents
Night Sky

- Into The Night • Kate Blincoe

Finding connection in the dark

A new project Hearts in the Ice is collecting data on climate change from the one of the harshest environments on Earth

Experiencing the long arduous 100 days of the 'polar night'

For the sake of the planet, we have to protect the night

Walking beneath the night sky reminds us of our place in the universe

Dark sky constellations have informed Aboriginal astronomical traditions across millennia
Night Sky

- Nurturing Plants By The Lunar Calendar • Claire Ratinon

Sharing tips on gardening following the phases of the moon
Wisdom and Wellbeing
A Tale of Two Martyrs • Nick Robins
The Pilgrims' Way can be a path to the past and the future
We need a global holistic environmental movement that goes beyond 'isms'
The Arts
Women are telling the story of racism through a powerful medium
Can art bring us closer to empathising with other species?
Regulars
A tribute to the founder of Resurgence magazine
Letters to the Editors

- Letters to the Editor

A selection of letters to our editor
Reviews
Review of Humankind: A Hopeful History
Review of Film: Communities of Hope: Discovering the Ecovillages of Europe
Review of Stone Talks
Review of Tales of Two Planets: Stories of Climate Change and Inequality in a Divided World
Review of Imperial Mud: The Fight for the Fens
Review of Documentary: White Riot
Review of The Book of Trespass: Crossing the Lines That Divide Us