Love is a verb
Issue 337 • March/April 2023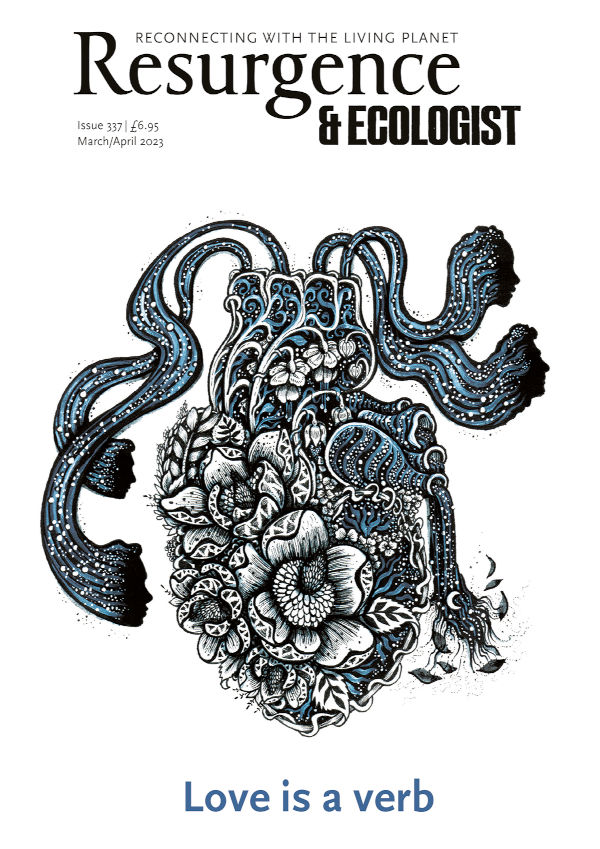 In this issue of Resurgence & Ecologist we visit a place called love, not the Disney-sop version – rather a more real, gritty, demanding and often heart-breaking place that pushes us to evolve into more compassionate beings. Through the main theme of 'Love is a verb' we explore all the ways in which love as an action already shows up in our lives, and all the ways we could, if we choose, find more space for it.
Raiyah Butt opens our themed section by writing about how self-love is an act of political will, not self-indulgence. We meet a professional climber putting his love of Nature above his climbing ambitions, and learn from a modern Sufi in America, Omid Safi, that taking care of the natural world is one of the three core tenets of the Qur'an.
In our Connected Life section Annabel Heseltine dives with the Biospherians bringing life back to the coral reefs in Bali, and we celebrate the ceramic sculptures by artist Courtney Mattison that honour Indonesia's coral reefs.
As AI takes ever more prevalence in our lives, neuropsychiatrist Iain McGilchrist warns of the dangers of allowing left-brain thinking (and information) AI to dominate how our lives are run in our Feature Story 'The Matter with Things'.
Throughout this issue we explore all the ways love as an act can manifest and we pay homage to the simple, yet powerful idea, that if you love something, you take care of it.
Highlights
Acting Now for People, Animals and Planet: Joyce D'Silva
Stewards of the Biosphere: Annabel Heseltine
Tales of Urban Birding: Yasmin Dahnoun
The Matter with Things: Iain McGilchrist
The Qur'an of Nature: Omid Safi
Buy a copy of this issue
Become a member and receive 6 issues a year

Contents
Key
Free for all to view
Free for members to view
Not available
Welcome
Exploring all the ways love as an action can manifest
Regulars
Community

- News from the Resurgence Community

Oxford Real Farming Conference and Wider Horizons
Letters to the Editors

- Letters to the Editor

A selection of letters to the Editor

We need to love ourselves before we can love others
Ecologist
Top stories from The Ecologist environmental news website
The New Kunming-Montreal Global Biodiversity Framework • Catherine Early
Reporting on the deal signed at COP15 which puts Indigenous rights on a new footing
CIWF activist on how we can all foster more loving compassion for all sentient beings
The Growing Threat to India's Pastoral Pashmina Producers • Vandana K
The climate crisis is among the key factors affecting goat herders in Ladakh
Connected Life
Biospherians are bringing life back to the coral reefs in Bali
A Sanctuary for Life's Exuberance • Courtney Mattison
Introducing ceramic coral sculptures
A day birdwatching in London with David Lindo
Feature Articles
Unravelling the dangers of allowing left-brained-thinking AI to dominate and run our lives
Love Is A Verb
Excerpt from the late bell hooks' acclaimed book All About Love: New Visions
Finding strength in the radical idea that loving your community is an act of self-care
How Love Changes Priorities • Marissa Land
Professional climber Bernd Zangerl has learnt to put a love of Nature above his climbing ambitions
We must learn to love those we deem less worthy of our love
Taking care of Nature is a core tenet of the Islamic faith
Wisdom and Wellbeing
Original recipes that celebrate the return of spring in the UK
Talking music and mental health with singer-songwriter Lizzy Hardingham
Art and Culture
Exploring what love in action really means through a play
Artists and scientists explore themes of grief and hope around biodiversity recording and loss.
Reviews
Review of Environmental Thought: A Short History
Review of Landscapes of Silence: From Childhood to the Arctic
Review of The Wheel of the Year: Your Nurturing Guide to Discovering Nature's Seasons and Cycles
Review of Speculative Futures: Design Approaches to Navigate Change, Foster Resilience and Co-create the Cities We Need
Review of Nightwalking: Four Journeys into Britain After Dark and The Darkness Manifesto: How Light Pollution Threatens the Ancient Rhythms of Life
Review of What We Owe the Future: A Million-year View
Review of On Belonging: Finding Connection in an Age of Isolation