Homage to Gaia
Issue 202 • September/October 2000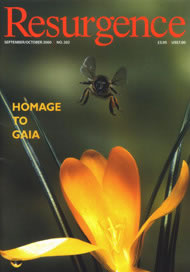 Buy a copy of this issue
Become a member and receive 6 issues a year
Contents
Key
Free for all to view
Free for members to view
Not available
Welcome
Feature Articles
Memoirs of an independent scientist.
We need to restore the balance between wisdom and science.
GLOBALIZATION AND POVERTY • Vandana Shiva
Economic globalization has become a war against nature and the poor.
Without social justice energy efficiency is not enough.
It is worth doing nothing
People are drawn to the countryside to experience its unique rhythms.
Frontline
Matt Dunwell offers permaculture training on his farm.
Two examples of commitment to people and place.
Education
Rishi Valley school integrates education, ecology and the human spirit.
Medicine
Listening to the patient.
The Arts
ART FOR EARTH'S SAKE • Suzi Gablik
A personal memoir of a dissident critic.
LIVING THE ELEMENTS • Adam Stout
Steve Smith is a driftwood magician.
Regulars
A Sense of Place

- Cockatoo Ground • Mark Tredinnick
Letters to the Editors
Reviews
Review of The Legacy of Luna: The Story of a Tree
Review of The Perils of Progress
Review of The Breakdown of Climate
Review of Technology as Magic
NATURE-CENTRED LEARNING • Mary Tasker
Review of Transformative Learning
Review of The River's Voice
Review of Culture and Imperialism
Review of Love After Sappho
IN CASE YOU MISSED IT • John Lane
Review of Chardin