Nature Knows us - do we know nature?
Issue
232

• September/October 2005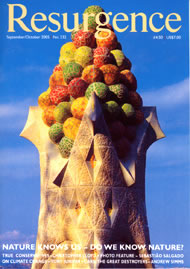 Buy a copy of this issue
Become a member and receive 6 issues a year
Contents
Key
Free for all to view
Free for members to view
Not available
Welcome
Feature Articles
To gain the trust of the British people, the Conservative Party has to become truly conservative.
What should a writer do when world affairs do not obey the rules of 'fairy-tale'?
Why are we finding it so hard to address one of the biggest threats of our time?
Why Britain should use the euro... and keep the pound.
Religious and development leaders come together to address the problems of poverty.
How to fall out of love with four wheels and an engine.
Oyster mushrooms cleaning up oils pills - whatever next?
Buddhism and science come together for the benefit of each other.
Photo Feature
Salgado introduces his Genesis project.
The Arts
Sohan Qadri's paintings are meditations on the deep enchantment of the soul.
Potter Gilda Westermann throws porcelain with spirit.
Brancusi's simple sculptures encapsulate complexity itself.
C. F. John integrates art with politics and life.
Antoni Gaudí was a craftsman-architect devoted to organic patterns.
Music will let us discover the real patterns of the universe.
Frontline
Commemorating Armistice Day with a commitment to peace.
The lost gardens of Sinai.
Regulars
Reviews
Review of The World is Flat
Review of The Beauty of Craft
Review of Viva la Vida
Review of Limits to Privatization
Review of The Buddha and the Terrorist
Review of An Autobiography of Sorts
Review of Teaching Toward Freedom
Web Exclusives
Balancing ideals with actions is a constant challenge.
Environmentalism transcends religious boundaries.
Review of Just Beyond The Visible by Andrew Machon
Review of Dark Nights of the Soul by Thomas Moore
Review of A Safe and Sustainable World by Nancy Jack Todd
Review of In Praise of Slow by Carl Honoré
Review of Gem Squash Tokoloshe by Rachel Zadok