From Ownership to Relationship
Issue 235 • March/April 2006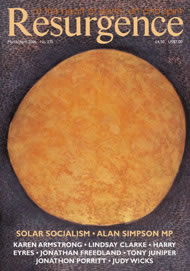 Buy a copy of this issue
Become a member and receive 6 issues a year
Contents
Key
Free for all to view
Free for members to view
Not available
Welcome
We have built a system which turns food and water into commodities to be bought and sold.
Frontline
TreePeople's TREES project advocates trees, forests and forest-inspired technologies as solutions to pressing environmental problems.
Introducing the Resurgence School of Organic Gardening and Cooking.
The Network of Spiritual Progressives aims to empower spiritually inspired approaches to politics in the USA.
The Prison Phoenix Trust brings meditation and yoga to people in UK prisons.
Current Affairs
It will take fifteen years for new nuclear power stations to come on stream. If we are to tackle climate change, we have to start now.
The UK's energy systems are inefficient and wasteful. We need a national system of local energy networks.
More roads in Africa would result in more exploitation of Africa.
Undercurrents
Should we reform or replace capitalism?
Poverty is caused by the growth and maintenance of ownership in large concentrations that take from society more than they give.
In My Own Words: RED ALERT • Jeremy Leggett
Half Gone, by Jeremy Leggett: oil depletion and global warming are the two great oversights of our times.
Most people in Britain cannot name even ten wild flowers.
The key to healthy soil is the vast web of complex symbiotic relationships held within it. The importance of mycorrhizal partnerships.
It is a basic human right to die in dignity. The Hospice of the Heart aims to change the existing paradigm of death and dying.
Keynotes
The author of A History of God examines fundamentalism and the theology of nonviolence.
THE LOCAL LIVING ECONOMY • Judy Wicks
Transforming business life with the White Dog principles.
A 'children first' approach is the key to building a humane and sustainable world.
As children increasingly become the 'new' market, advertising is turning its beam on the young.
How corporations corrupt schools.
Regulars
Poetry

- AN ANTHOLOGY OF CONTEMPORARY POEMS • Peter Abbs

Poems by Lynne Wycherley, Jay Ramsey, Paul Matthews and David Barnett.
Voice From The South

- WATER FUTURES • Vandana Shiva

The World Bank policies of water privatisation in India will cause a hydro-apartheid.

We will only be saved if we realise how much we have in common and need to hold in common.

The life of a pioneer of sustainable development.

The purpose of weeding is not to eliminate, but to enter into a spirit of co-operation.

Alternatives to conventional disposable nappies.

Children benefit in many ways from helping out in the kitchen. Wild garlic soup, a penne dish, rhubarb crumble and fruit muffins.
Letters to the Editors
The Arts
An open-minded approach will encourage us to fully appreciate works of art.
FLAWS OF THE PERFECT CIRCLE • Gina Im
The sublime and subliminal work of Lee Waisler.
Art at the Small School with Bertrand Licart.
We are living in an increasingly deskilled society.
Reviews
Review of Dyad by Peter Oswald and Sean Borodale
Review of Hermes & Magdalen by John Moat
Review of Findings by Kathleen Jamie
Review of The War at Troy by Lindsay Clarke and The Return from Troy by Lindsay Clarke
Review of A New Earth by Eckhart Tolle, The Public Value of Science by James Wilsdon et al., A Good Life by Paul Peacock, The Bedside Book of Birds by Graeme Gibson, Allotment Gardening by Susan Berger
Web Exclusives
Jeweller Wendy Ramshaw steps through the Looking-Glass.
Removing 'clutter' can help to reclaim our streets and make them safer.
A determination to be peace, and courage to stand for it, no matter what, create the energy and power for change.
Review of Beyond Conservation by Peter Taylor
Review

- A RETURN TO GOOD SENSE • John Coleman

Review of Direct Democracy by Douglas Carswell

Review of Why We Garden by Jim Nollman
Review

- GOOD PHILOSOPHY FOR OUR MAD TIMES • Frances Howard-Gordon

Review of Confessions of a Radical Traditionalist by John Michell