Celebrating 40 Years of Resurgence
Issue 238 • September/October 2006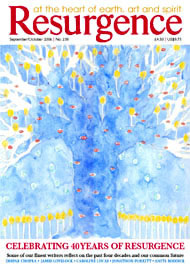 Buy a copy of this issue
Become a member and receive 6 issues a year
Contents
Key
Free for all to view
Free for members to view
Not available
Welcome
Marking forty years of Resurgence.
The Movement
There is still a window of opportunity to ward off ecological collapse.
No more compromise: we need Greens in governments NOW!
Strategic, imaginative leadership will facilitate truly sustainable development.
We should harness the spirit of co-operation within the environmental movement.
Keynotes
The next revolution, the one that will save us, will arise inside.
IMAGINATION HOLDS THE KEY • Tim Smit
It's time to actively create ideas and institutions to work with the grain of Nature.
Nature Care
We have scarcely begun to understand the intricacy of the biosphere.
We are losing sight of Nature in our bid to gratify our appetites.
Most of the fields of my childhood were built over in the name of progress and development.
Communities of the past had a deep connection with the land, and have much to teach us about the future.
The Greening of Politics
We can change our world by changing our hearts and minds.
WHITHER THE ENVIRONMENTAL MOVEMENT? • Michael Meacher
The environmental movement cannot rest on its laurels when there is so much yet to be done.
Climate change will be the trigger that brings 'corporate feudalism' to an end.
The Economics of Wellbeing
Corporations must shift their energy into making the world cleaner and fairer.
There is a simple formula to avoid economic collapse: reduce oil consumption by 3% per year.
Ethical consumerism is a spiritual act.
Moving from advertising glitz to anti-globalisation fervour.
RICHER? YES; HAPPIER? NO • Andrew Simms
The Happy Planet Index could help us to live within our environmental means.
I seem to be coming full circle, back to 'small is beautiful'.
JOINING UP THE DOTS • Paul Allen
If we think holistically about our planetary problems, we are presented with an equal number of solutions.
Some flashbacks from the past forty years, and some dreams for the next forty.
Gaian Science
Through our intelligence and communication networks, human beings are the nervous system of the planet.
The seed is my greatest teacher. From the seed I learn how to integrate with the web of life.
What we need today is exactly the kind of science that Leonardo da Vinci outlined 500 years ago.
Eco-Architecture
We need a benign architecture that is carbon-neutral and low-impact and uses sustainable materials and appropriate technology.
Peace Building
Human security rather than the use of force offers the best chance for peace in the 21st century.
Eco-Initiatives
Forty initiatives that are changing our world.
Reviews
Review of Face to Face by Philip Vann
Review of Animism by Graham Harvey
Review of The Fall by Steve Taylor
Review of Animate Earth by Stephan Harding
Review of Pathways of Chance by F. David Peat
Review of The Founding of Arvon by John Moat
Review of Pigs must eat on Sundays by Ben Hartley
Review of The Biodynamic Food and Cookbook by Wendy E. Cook
Review of Ripped and Torn by Amaranta Wright
Review of A Silent Joy by Etain Addey and Real Horsepower by Martin Lanz
Review of Every Man an Artist (ed.) Brian Keeble and On the Nature & Significance of the Crafts by Brian Keeble
Web Exclusives
The film An Inconvenient Truth is drawing a healthy audience.
Review

- AFFECTIONATE INTIMACY • Philip Vann

Review of Francis of Assisi by Greg Tricker
Review

- ALL WE NEED IS LOVE • Georgina Weaver

Review of The Crucible of Love by Jay Ramsay
Review

- AN EVANGELIST SPEAKS • Bill McKibben

Review of God Laughs and Plays by David James Duncan
Review

- CAN FREE TRADE EVER BE FAIR? • Chris Wright

Review of Fair Trade For All by Joseph E. Stiglitz and Andrew Charlton
Review

- DREAMING OF THE LAND • Jules Pretty

Review of Fields that Dream by Jenny Kurzweil
Review

- THE CHIEFS OF STAFF MUST GO • Hugh Beach

Review of Lions, Donkeys and Dinosaurs by Lewis Page
Review

- THE CORPORATION THAT CHANGED THE WORLD • Nick Robins

Review of The Corporation that Changed the World by Nick Robins
Review

- THE SURROUND SOUND OF SILENCE • Ian Skelly

Review of The Spirit of Silence by John Lane
Review

- UNFINISHED BUSINESS • Nick Robbins

Review of The Great Transformation by Karen Armstrong