All Is One
Issue
311

• November/December 2018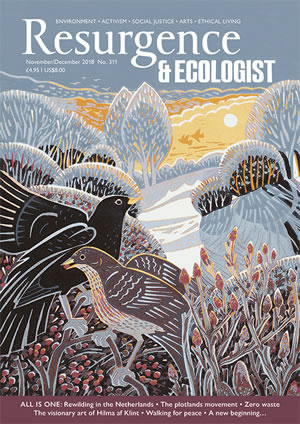 Buy a copy of this issue
Become a member and receive 6 issues a year
Contents
Key
Free for all to view
Free for members to view
Not available
Welcome
Celebrating a sense of unity
Frontline
Despite extinction and deforestation there is cause for hope
Tips on how to minimise waste in the season of excess
Profiling projects working to clean up and look after our seas
Resurgence Building for the future - new centre update
Highlights from environmental projects around the world
Ecologist
Reporting from a controversial ecological project in the Netherlands
Sowing seeds for the future
Honouring the former director of Greenpeace, Lord Peter Melchett
The need for accountability across the charity sector
Keynotes
Looking again at the ancient origins narrative in the Christian tradition
Undercurrents
Addressing family conflicts is having a positive effect on children
Feature article and an interview on the use of homeopathy in farming today.
A historical guerrilla movement could create positive outcomes for the UK's housing crisis
An new environmental narrative could provide the hope we need to make a change
Ethical Living
Pilgrims walking for a better world
Searching for the source of the River Avon
An encounter with a hitchhiker
Embracing spirituality with a scientific mind
Transforming seasonal leftovers into a winter treat
Pickled walnuts and peach crumble provide food for thought
The Arts
Exploring the work of abstract artist Hilma af Klint
Welcoming a new exhibition of the work of Edward Burne-Jones
Reporting on a project breathing life back into pieces of historic knitwear
Regulars
A celebration of William Blake as Romantic eco-poet
A selection of letters to our editors
Reviews
Review of Ocra: How We Came to Know and Love the Ocean's Greatest Predator
Review of Peak Inequality: Britain's Ticking Time Bomb
Review of Buzz: The Nature and Necessity of Bees
Review of The Nature Fix: Why Nature Makes Us Healthier and More Creative and The Biophilia Effect: A Scientific and Spritual Exploration of the Healing Bond Between Humans and Nature
Review of River of Life, River of Death: The Ganges and India's Future
Review of How To Give Up Plastic: A Guide to Changing the World One Plastic Bottle at a Time
Review of No. More. Plastic: What You Can Do to Make a Difference
Web Exclusives
Renewing our seasonal connection with Nature through a traditional celebration.
Why a Christian environmental and agricultural organisation is helping set up Northern Ireland's first community-owned farm
Summer 2018 will go down in history as the moment that humanity awoke to the urgency of the climate crisis
Review of Landfill