Recovery Time
Issue 321 • July/August 2020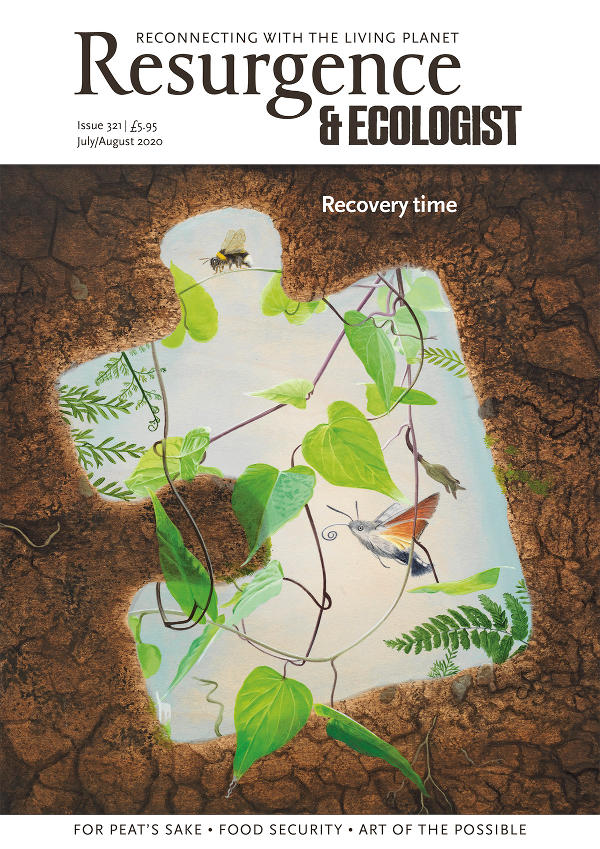 In this issue of Resurgence & Ecologist, we look at the path to recovery. Daniel Christian Wahl writes of a 'transformative decade' and the need to change how we are, not just what we do; Vandana Shiva explains why the road ahead must encompass radical change in our food systems; and Laurie King reports from the Shetland Islands on an organic farming project.
Also in this issue: Heather Ackroyd speaks to artists about changing culture; psychologist Steffi Bednarek writes on mental health; and Anne Stobart shares tips on growing medicinal herbs.
Our July/August issue explores the theme of peat: its value for biodiversity and carbon storage, as well as to human history.
Highlights
Growing Self-sufficiency in Uganda
Building a New Normal: Daniel Christian Wahl
Fuel for Thought: Donald Murray
Coronavirus, Voice of the Earth: Satish Kumar
Digging A Hole For Ourselves: Nicky Scott
Voice of a Generation: Anna Turns
Buy a copy of this issue
Become a member and receive 6 issues a year

Contents
Key
Free for all to view
Free for members to view
Not available
Welcome
The road beyond crisis has to encompass transformation
Frontline
Conservationist Fights to Protect Brazil's 'gardeners of the forest' • Catherine Early
A grassroots conservation project to protect the Tapirs
Visiting a permaculture garden with a powerful message
A round up of environmental news stories
Resurgence Festival of Wellbeing • Sharon Garfinkel
A celebration of ideas that can shape wellbeing for people and planet
Ecologist
Our toxic food system must not survive this crisis
Insights from a community-run agriculture project in the Shetland Islands
Cheering on a Figurehead • PL Henderson
Reflections on the legacy of Greta Thunberg two years after the first school strikes
Lessons of restoration in Hong Kong
Exposing the deadly reality of burning coal
Money Can Grow on Trees • Simon M Lamb
Rethinking the value of primal forests to save them
Keynotes
The path towards regenerative economies is made by walking it
Undercurrents
Peatlands

- For Peat's Sake • Sarah Proctor

Extolling the virtues of a slow-growing landscape
Peatlands

- Give Peat A Chance • Lizzie Shepherd

Documenting efforts to rebuild peat bogs

Exploring the good and the dark side to peat digging
Peatlands

- Protecting Tropical Peatlands • Marianne Brown

Sharing news of a potentially ground-saving project

Questioning the use of peat in gardens
Wisdom and Wellbeing
Coronavirus: The Voice of the Earth • Satish Kumar
What lessons can we learn from this crisis?
Tips on growing and using health-boosting herbs
An invitation into heartbreak • Steffi Bednarek
We have to embrace anxiety to connect with the world
Flower growing using 'no-dig' principles
The Arts
The art world must adapt quickly to survive the crises of our times
The enchanting work of sculptor Walter Bailey
Regulars
Letters to the Editors

- Letters to the Editor

A selection of letters to our editor
Reviews
Review of The Natural Health Service: What the Great Outdoors Can Do for Your Mind; Losing Eden: Why Our Minds Need the Wild
Review of Our House Is on Fire: Scenes of a Family and a Planet in Crisis
Review of The Self Delusion: The Surprising Science of How We Are Connected and Why That Matters
Review of The Birds They Sang: Birds and People in Life and Art
Review of Entangled Life: How Fungi Make Our Worlds, Change Our Minds and Shape Our Futures
Review of Under the Stars: A Journey into Light
Review of Wanderland: A Search for Magic in the Landscape