Immersion
Issue
336

• January/February 2023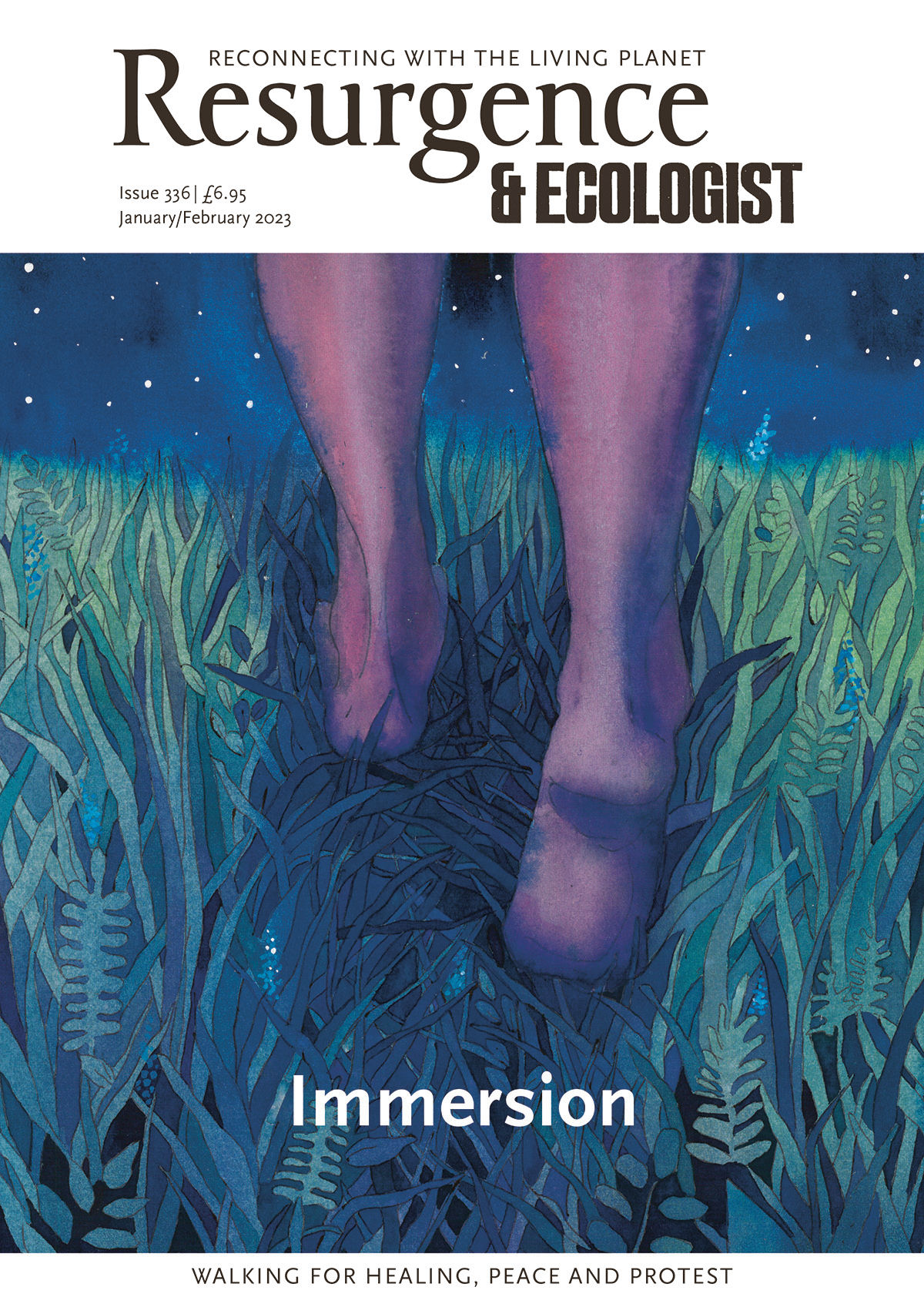 In this issue of Resurgence & Ecologist we explore the theme of Immersion and look at how walking for protest or pleasure, trespass or treat is always an invitation to immerse ourselves in Nature. In our themed section Nick Hayes writes about The Right to Adventure and Jonathon Turnbull explores the wild spaces of Kyiv.
In our feature story Ginny Battson dives into the life-enhancing flow of fluminism – those multiple symbiotic processes that sustain all life – and calls on us to nurture the deepest possible respect and responsibility for all life, acknowledging that we are all kin.
In the Ecologist pages Catherine Early talks to Paul Gilding, former head of Greenpeace, about why cutting methane emissions should be a priority; whilst in Connected Life Yasmin Dahnoun finds resilience and hope in a documentary film that explores the impact of climate change on the women of a pastoral community in Malawi.
In Wisdom and Wellbeing, Katherine Aalto considers gardens as a place of sanctuary to the bereaved, and Satish Kumar re-imagines a conversation between Buddha and his son. PL Henderson discovers how the transient works of sculptor Maria Bartuszová can evoke a passage of being, in our Arts and Culture section.
Highlights
Labour's Energy Dilemma: Chris Saltmarsh
The Secret World of Soil: Marissa Land
Home: Ginny Battson
The Right to Adventure: Nick Hayes
Trods, Trails and Tracks: Stephanie Boxall
Nature as a Spiritual Teacher: Satish Kumar
Buy a copy of this issue
Become a member and receive 6 issues a year

Contents
Key
Free for all to view
Free for members to view
Not available
Welcome
An invitation to immerse ourselves in Nature
Regulars
Award winning project and grateful thanks
A selection of letters to the Editor
How a people's movement based on walking brought change
Ecologist
Top stories from The Ecologist environmental news website
Who is really reaping the benefits from a new offshore wind farm in the North Sea?
Labour's planned interventions in the energy market don't go far enough
Former head of Greenpeace on why cutting methane emissions should be a priority now
Connected Life
The interweaving of language and food offers true sustenance
Film-maker Raj Patel hands the climate change narrative to the women of a Malawi village
Diving into eco-acoustics to listen in on the sounds of the soil
Feature Articles
The philosophy of Fluminism respects the symbiotic flow between all things
Immersion
Walking for protests or pleasure is always an invitation to immerse ourselves in Nature
Without a truly experiential connection to Nature how can we care for and about it
Uncovering stories of our collective heritage along pathways from the past to the present
These wild spaces of Kyiv were once places of refuge. Now they are mined and booby-trapped
Exploring what it is about flowing water that makes us feel so alive
Indigenous voices share their walking stories to reveal the power of talking to the land
Wisdom and Wellbeing
How fiction might help us navigate environmental loss
We can make a difference, but only when we act together
Gardens can offer sanctuary for the bereaved
A conversation between Buddha and his son Rahul
Art and Culture
How the transient works of sculptor Maria Bartuszová can evoke a passage of being
An insight into poetry that emerged from campaigning at Twyford Down in the early 1990s
Reviews
Review of Ever Green: Saving Big Forests to Save the Planet and The Lost Rainforests of Britain
Review of Expansion Rebellion: Using the Law to Fight a Runway and Save the Planet
Review of Yikes
Review of The Climate Book
Review of Climate Change as Class War: Building Socialism on a Warming Planet
Review of Fledgling
Review of The Po: An Elegy for Italy's Longest River